Salkantay Trek to Machu Picchu
Best option for nature lovers!
Salkantay Trek

If you want to do a beautiful and demanding trek, consider doing the Salkantay Trek to Machu Picchu. In our view – and according to most guidebooks – the Salkantay Trek is the best alternative to the classic Inca Trail. This trek is in some ways even better than the Inca Trail. The nature you will see is incredible, so we especially recommend this trek if you are a real nature lover. You climb from the Andean highlands to an icy pass at 4600 meters. After this it goes down hill. You will see banana trees, coffee plantations and a wild river. You can take your fleece sweater off after you enter the high altitude cloud forest. Due to the big difference in altitude during the Salkantay Trek, you can say there is a different world every few kilometers.

An advantage of the Salkantay Trek to Machu Picchu is that you encounter less tourists than on the Inca Trail. The Inca Trail has the advantage that you visit a few ruins on the trail. You do not have any on the Salkantay Trek. In addition, you do not end directly in Machu Picchu; you spend your third night in Aguas Calientes, the town near Machu Picchu.
The Salkantay Trek program (4 days)
Day 1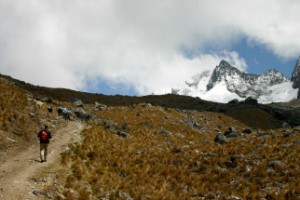 On the first day, early in the morning we pick you up from your hotel and drive about 4 hours to the village of Mollepata.
After breakfast at a local restaurant, we continue to Soraypampa. Here we walk to Lake Tucarway, which takes about 1.5 hours. You will have stunning views, not just of the lake, but also of the surrounding glaciers! Then we walk back to Soraypampa and after lunch we walk another 3 hours to our first campsite in Salkantaypampa (at 4100 meters). The total walking time is approximately 6 hours.
Day 2
The second day is the hardest one, because you have to climb up the Salkantay Pass for the first 2 hours, which reaches over 4600 meters. And then you are not done yet, because after this pass you still have to walk 6 or 7 hours down. But of course, we will have a lunch break and time to enjoy the great views. The snow-covered peaks of the mountains will disappear when we walk to the high cloud forest: a different world!
Our second camp is near a beautiful hot spring, at about 2800 meters. Of course we will enter these hot springs to relax and enjoy! Total walking on the second day is approximately 9 hours.
Day 3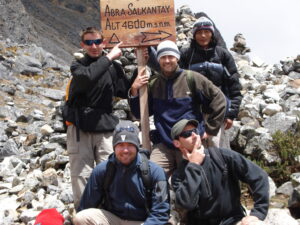 On the third day we walk around 5 hours to the village of La Playa, where we will have lunch. After lunch we will drive to Aguas Calientes: first by bus and for the last part we get on the train. This night we stay in a little basic but nice and clean hotel.
Day 4
Early in the morning on the fourth day, we take one of the first buses up to Machu Picchu, before most people arrive. You will get a guided tour to explore the "Lost City of the Incas". And you can do some optional extras. You can for example walk up Wayna Picchu or climb Mount Machu Picchu. Or you can go to a part of the Inca Trail towards Inti Punku, the so called Sun Gate. In the afternoon you take the bus back to Aguas Calientes and from there you return back to your accommodation in Cusco.
Salkantay Trek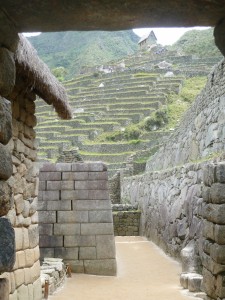 Included:
Transport as described
Transfer to and from your accommodation
Machu Picchu entrance fee.
Hotel in Aguas Calientes
All taxes
Horses to carry the tents, kitchen equipment and the backpacks (max. 7 kg per person)
Cook and all meals ( 3x breakfast, 3x lunch, 3x dinner)
Tents, camping equipment and mattresses are included.
Kitchen and dining tent, including chairs and tables
Medical assistance, first aid equipment, oxygen
Not Included:
Breakfast on day 1, lunch on Day 4
Personal horse (optional if you do not want to carry your own bag)
Sleeping bag (you can rent them with us $15 USD)
Hiking sticks (optional, you can rent them with us)
Optional single room in Aguas Calientes
Bus from Aguas Calientes to Machu Picchu and back is not included. This is optional, you can also walk.
Wayna Picchu and Mount Machu Picchu fee is not included. If you want to visit one of these peaks, we need to know this far in advance.
Tips for the guide, porters and cooks
Booking the Salkantay Trek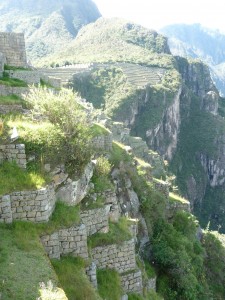 To book the Salkantay Trek to Machu Picchu, we need the following details:
Full names, exactly as written in your passport
Nationality
Date of birth
Departure date
A minimum of 200 USD, non- refundable deposit. You can pay the rest of your trek at the office. Please note: from 21 days before your departure we cannot refund your payment.
A copy/ fax or scan of your ISIC student card, if you have one. People under 28 with an official card receive a discount. Please send the copy's immediately during your booking, otherwise you will not receive a discount.
Check out the other treks and trails to Machu Picchu:
Or check the opening hours, access rules, restrictions and entrance prices of Machu Picchu here: