Touristic highlights of Peru
Culture, adventure, history, outdoor sports
Touristic highlights of Peru

Welcome to one of world's… driest deserts, highest mountain ranges, remotest rain forests, most famous cultures, most dramatic histories and new wonders!

Peru is a haven for every traveler. Whether you like culture, adventure, history, outdoor sports or just a little bit of everything. A land of amazing variety, an unforgettable experience. Our goal? To share our love for Peru with you. To help you explore this fascinating country. And to do this in a personal way. Service is very important and not necessarily expensive. We want our clients to have a dream come true, whatever your budget is! Please take a look at our selection of the tourist highlights of Peru.
Cusco: navel of the world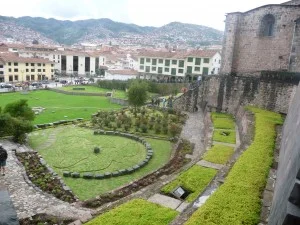 A beautiful flight (or an exhausting bus ride) will take you from Lima to the heart of the Andes and to one of world's greatest cultures. Cusco, meaning 'navel of the world' in the native language Quechua, is not only the old capital of the Incas. It is a fascinating mixture of indigenous and western culture. The beautiful colonial city center has the 16th century churches built on the ruins of Inca palaces. It still reminds us of a dramatic twist in history.
There are two ways to discover Cusco: in the classic City Tour or in our specially developed 'Cusco de los Cusqueños' Tour. Cusco is also the place for those interested in our special workshops, Spanish classes or in doing volunteer work. Cusco will certainly be one of the highlights of your trip!
The Sacred Valley of the Incas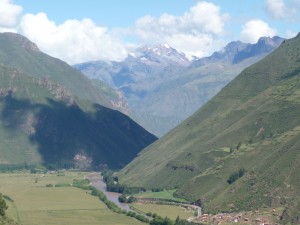 Close to Cusco lies the lovely Sacred Valley of the Incas. Those in for some action will love the green mountains, the fast running rivers and the snow covered mountain peaks. Whether you like adventure sports such as hiking, mountain biking, white water rafting, horse back riding or paragliding: you will have fun!
But the Sacred Valley is first of all famous for its charming villages with colorful markets and impressive Inca ruins. Time seems to stand still as you find yourself in another world just outside of Cusco. Indigenous women sell all kinds of exotic fruits, self-woven cloths and artifacts; while an elder couple sits in the warmth of the sun, contemplating about times long passed. You can discover the Sacred Valley in our Sacred Valley Tour. In this tour we visit Pisac, Urubamba, Ollantaytambo and Chincheros. Other places worth visiting are the salt mines of Maras, the Inca agricultural laboratory of Moray, and the 'forgotten' ruins of Puma Marca.
Machu Picchu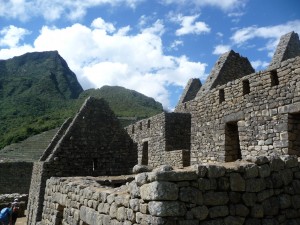 Machu Picchu is one of the main tourist highlights of Peru. It was rediscovered in 1911 and chosen 'new world wonder' in 2007. Machu Picchu is without any doubt the most famous and most stunning archaeological site of the Americas. Rising up high above the wild Urubamba River. With the peak of Wayna Picchu often surrounded by mystical clouds. This 'citadel' amazes every visitor. Much is said and written about Machu Picchu, but its construction date and purpose are still riddles.
The Inca Trail, probably the world's most famous trail, leads over high mountains and through upper rain forest to Machu Picchu. This trail formed part of an extensive network of trails named Qhapaq Ñan. It contains about 23000 kilometers of trails throughout Tahuantinsuyo, the Inca-empire covering most of Peru, Ecuador, Colombia and Bolivia; and parts of Brazil, Chile and Argentina. Chasquis are special runners using these trails. They could deliver messages from Quito to Cusco (a distance of 1980 kilometers) in 5 days!
Please keep in mind that you have to reserve the Inca Trail a long time in advance. This is due to the strict entrance regulations. We advise you to reserve the trail at least 4 to 6 months in advance! There are several alternatives for those who prefer less tourist routes: for example the just as beautiful Salkantay Trek. You can also reach Machu Picchu by train – or cheaper, longer and less comfortable – by car.
Cusco region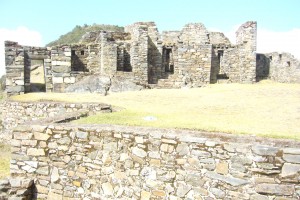 For those wanting to avoid crowds of tourists, the region of Cusco still offers a lot of possibilities. For example the 4- or 5-day trek to Choquequirao, another 'lost' Inca city, still unknown to most travelers. Or the Vilcabamba region where the Incas started a new, hidden kingdom that survived for more than 30 years. This was right after their disastrous rebellion against the Spaniards in 1537.
Just want to relax a couple of days in beautiful nature? Visit a hacienda on a 47-hectares private terrain. It is just a 1-hour drive from Cusco where you can camp, fish, enjoy traditional Peruvian food and do workshops. And what do you think of relaxing for a couple of days in the hot springs of Lares?!
South Peru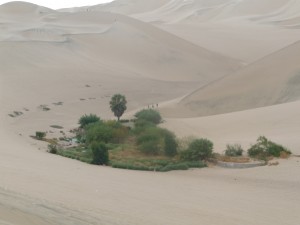 When travelling trough the south of Peru, you will have the feeling that you are visiting several continents instead of just a part of a country. East of the impressive Andes you will find the western part of the Amazon Rainforest. Manu National Park is the place with most bird species in the world. Other, cheaper alternatives to visit the rain forest, are Iquitos in North-Peru and Rurrenabaque in Bolivia.
In the west, between the Andes and the Pacific Ocean, tourists visit the huge desert to see the famous Nazca lines. And to go sandboarding near the oasis of Ica, to see penguins near Pisco and of course to visit Lima, the capital of Peru.
High above the waters of the Pacific, on the border of Peru and Bolivia we find the world's highest navigable lake. Lake Titicaca lies at an altitude of 3800 meters. On Lake Titicaca you will find the floating islands of Uros, and the islands of Taquile and Amantaní. The people of these islands still live in a traditional environment without luxuries such as electricity.
Arequipa is a friendly and prosperous university city. In the city center, you should certainly visit the impressive Monasterio de Santa Catalina. Several volcanoes look out over the biggest city of southern Peru. El Misti (5825 meters) and Chachani (6075) can be climbed. Travelers often visit the Colca Canyon, which is much deeper than the Grand Canyon. In an amazing 2-days, you can hike down to the canyon-river and climb up again. Also, this is the best place in the world to spot condors. With a maximum height of 1.10 meters and a span wide of 3.30 meters, the condor is the world's largest flying bird!
North Peru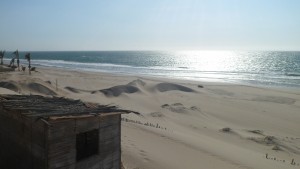 Many tourists and travel agencies have forgotten the northern part of Peru. A shame, because it is definitely worth a visit. At 200 kilometers north of Lima, archaeologists discovered Caral, the oldest city of the Americas. They proved that in America there had been a highly developed culture around 2500 BC. That is as old as the Egyptian cultures, and 1500 years older than first thought!
The region of Huaraz is the world's highest mountain area apart from the Himalayas. And an absolute haven for outdoor sportsmen!
Near Trujillo you will find the world's largest adobe city, Chan Chan. It is part of the Chimú culture, later overthrown by the Inca's. Possibly 60 000 people lived in this still impressive city of 20 square kilometers made out of mud.
Ten minutes away from Chan Chan you can enjoy the beaches of Huanchaco. Here, fishermen still use boats of tortora reed, as the Chimú did. Another beach you can enjoy is that of Máncora, close to the border of Ecuador. Learn how to surf, while dolphins are playing around you! Do not forget to visit Chiclayo and Cajamarca first though.
Close to Chiclayo, archaeologists found what was named the 'Lord of Sipán'. It is the tomb of a Moche ruler, buried with his servants around 250 AD. The discovery was world news in 1987. A 20 minutes drive from Chiclayo, in Lambayeque, two first-class museums will tell you everything about the Moches. After another 15 minute drive you can wander through the pyramid-constructions of Túcume. Building of this widespread complex started around 1000 AD. And the complex was still in use in the era of the Incas.
Cajamarca is a small, quiet town in the highlands. It is the place where the Spanish discoverer Francisco Pizarro captured Inca-ruler Atahualpa. You can still visit the 'Cuarto del Rescate', the room of 88 cubic meters that Atahualpa promised to fill once with gold and twice with silver in exchange for his release. Also, starting from Cajamarca you can visit the fortified city of Kuelap, a reminder of the Chachapoyas. The Incas overthrew this culture, like the Chimú, around 1470. Far to the northeast, Iquitos might be world's largest city that is not reachable over land. A nice alternative to the more expensive National Park of Manu!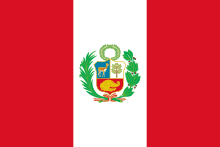 Bolivia
Just south of Puno, Bolivia awaits you to discover its beauty. La Paz, at an altitude of around 4000 meters is a fascinating site, with the slums looking over the rich city center in the valley. Two of our favorite tours begin here. Bike 67 kilometers down from an altitude of 4700 meters to 1200 meters on the world's deadliest road. Starting from the misty high Andes, through waterfalls, landslides and awesome scenery, bumping from rock to rock you will finally reach the subtropical village of Coroico.
From there you can go by bus to the rainforest near Rurrenabaque. This is a cheap and beautiful alternative to Manú. Most travelers prefer to fly from La Paz though, because of the tricky roads. But also because it is probably the most beautiful flight you will ever have. Scenery of snow covered Andes-peaks, followed by the green rain forest with a brown river below you.
Everyone should visit the salt flat of Uyuni. At an altitude of 3700 meters this 12000 square kilometers salt lake is one of the most impressive sites in South-America. The 3-day tour by four-wheel drive is beautiful. The salt lake is followed up by desert with beautiful colored lagoons filled with flamingos and impressive geysers.
No less impressive: the city of Potosí. In the 16th century the world's biggest silver mine was discovered here. Europe's economy was based for a long time on the silver from Potosí; the city grew to an enormous splendor and it was around the year 1625 that it was the worlds largest city with a 160 000 inhabitants. Because of its beautiful colonial center Potosí has been declared as World Heritage. But the history has its dark side as well: thousands and thousands of slaves died in 'Cerro Rico'. Visit the mine as the sad story continues until today: almost every week deadly incidents take place, as miners risk their lives for 3 dollars per day. Life expectancy for those working in the worst parts is less then 10 years. Not nice at all, but sometimes it is good to see a different world.
The tourist highlights of Peru and Bolivia by Mundo Antiguo Spanish school. Please contact us to help organize your trip.