Lake Titicaca
Uros, Amantani and Taquile islands
Lake Titicaca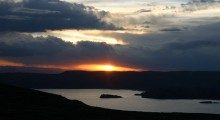 Lake Titicaca is a beautiful lake situated on the border of Peru and Bolivia. Titicaca is the cradle of ancient cultures such as Tiwanaku. Tiwanaku's most important city with the same name was situated just over the border with Bolivia. The legend tells that the first Inca, Manco Capac, son of the Sun and his sister-wife rose from Lake Titicaca, to found the Inca Empire. This Inca Empire grew out to be the largest pre-Colombian culture of South-America,
It is also the place where many traditions survived as nowhere else. Quechua and Aymara are still the first languages in many communities in the region. And with a bit of luck you witness one of the many festivities with traditional music and dances, like in Puno.
Even more photogenic than these festivities are the landscapes on Lake Titicaca. Most days, you can find an almost supernatural light in the late afternoon. And then add the quiet islands and the white mountain peaks further away. It is a real pleasure to stay on Lake Titicaca for a couple of days!
Uros, Amantani and Taquile islands

The islands of Amantani and Taquile are situated at about 4 hours in boat from Puno. The inhabitants of these islands still live in a traditional way, without motorized transport or electricity. It is possible to stay for a night in a host family, complete with a traditional meal in the kitchen with clay-oven. Recommended for everyone that wants to experience something really different than back home!
Plus: beautiful hikes, a fantastic sunset and equally amazing landscapes.
The 2-day Lake Titicaca tour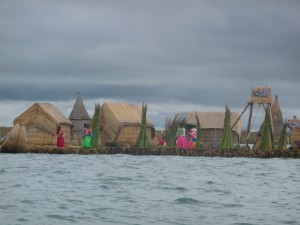 We pick you up from your hotel in Puno and bring you to the docks. From here you travel by boat to visit the floating islands of Uros. From there we travel to Amantani, where we stay for the night in a traditional host family. People would appreciate it if you bring some fruit or vegetables, while these are rare on the islands. The next morning we navigate in about 1 hour to the nearby island of Taquile. Taquile is famous for its traditional textile culture. Man walk around with knitting needles and women weave colorful clothes. These clothes indicate the social status of the owner. After a beautiful hike and a lunch we travel back in about 4 hours to Puno. We arrive there in the afternoon.
Tip: try to visit the majestic site of Sillustani near Puno!
Lake Titicaca tour

We offer a tour with the following included: 2 days Lake Titicaca, included transport, entrances, family home stay and lunch, dinner and breakfast on Amantani. Optional is also to include a lunch on Taquile.
You can book a luxery bus Cusco – Puno – Cusco with us as well. And you can include 1 or 2 nights in a hotel in Puno.

Do not miss the opportunity to stay in a local Peruvian host family with our tours on Lake Titicaca!