Special Spanish courses
Courses with a specific learning objective
Special Spanish courses

Some students want to learn Spanish with a specific objective. A medical Spanish course for medical volunteer work or a basic survival course to travel. In that case a special Spanish course might suit you. These are the special courses we offer.
Survival course
This Spanish survival course will teach you to express yourself in basic Spanish as quickly as possible. We will reduce the grammar to a minimum, although certain knowledge is essential. The idea is that you can survive on your own in a Spanish speaking environment within a minimum of time; the perfect course for backpackers!
Latin American culture and society
Do you also want to learn something about the interesting Latin-American culture and society in addition to your Spanish classes? In this course you will learn more about the complex socio-cultural reality of the region by studying the geography, history, art, traditions and customs; and also the political, economical and social issues.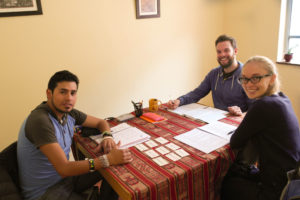 Spanish for tourism
The Spanish course for students who need special communication skills in order to work or study in the tourism sector. This is the perfect course if you are going to work in a travel agency, restaurant or hotel. You will practice making commercial phone calls, preparing professional correspondence, in talking about rates & conditions etc.
For this course, you will need to have at least a high intermediary level of Spanish. We can arrange a complementary internship for you in tourism in Cusco upon request.
Medical Spanish course
This is the Spanish course for medical students who need to speak Spanish with their patients and colleagues. Together with your teacher, you will determine what you need to study and which specific vocabulary you need to learn to be able to function well in a medical environment.
You can only do this specialization if you already have an intermediate Spanish level or higher. We can arrange a complementary internship or volunteer work in the health sector in Cusco for you upon request.
Business Spanish
This is your Spanish course if you need commercial skills for your job or your study. We focus on daily practice: you will learn many standard expressions used in the commercial sector and to write formal letters. You will also practice giving (commercial) presentations and making phone calls with different persons. You need to have at least a high intermediary Spanish level in order to follow this course. We can arrange a complementary internship for you in Cusco upon request.
Perfection course
If you already have a superior Spanish level, we can perfect your language skills. In this course we can prepare you for the DELE exam. This is the only exam for Spanish language that the Spanish government accepts.
This course is also a great solution when you live in Cusco and you want to improve your Spanish for everyday life and work situations.