The Spanish school
Why should I study at Mundo Antiguo Spanish School?
Why should I study at Mundo Antiguo Spanish School?
Simple: you know exactly what you get at Mundo Antiguo Spanish school. First of all, our classes are completely customized to your wishes, level and tempo. Secondly, the school and thus your classes are directed and supervised by one of Peru's most experienced Spanish teachers. Furthermore, you will get lessons with a specific curriculum. The Spanish school has the perfect location. And most important, we have the best teachers in Cusco!
So we offer you:
Spanish teachers

We work with only a small group of native Spanish teachers to maintain our high standards. They all have over 5 years of teaching experience. Our teachers aim to speak only Spanish during your classes. They are trained that well that they can communicate with you, even if you are an absolute beginner. That way, you will begin to think in Spanish right from the very start of your classes. Of course we always inform our teachers of the latest regulations, methods and modifications of the Real Academia Española.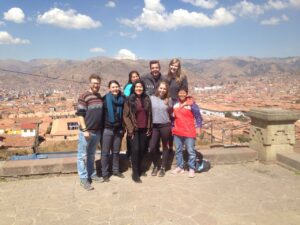 The Spanish lessons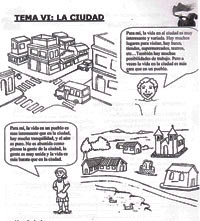 We offer group lessons and private classes. And you can also do a combination of private and group classes. Our group course has a maximum of only 4 students per class! Mundo Antiguo Spanish school offers you the personal attention and help that every language student needs. We will help you with your personal questions and difficulties and follow your personal development closely.
Spanish grammar is extensive and you can't avoid some theory. But what you can do with that theory is more important. It is good to know the rules but it is just as important to know how to apply them well. We are familiar with the (frustrating) gap between 'school Spanish' and the Spanish of every day life. After a while you will get the exercises, but to talk with people – and to understand what they say – remains difficult. That is why we focus especially on conversation exercises. And to converse with a teacher is quite different than speak with people on the street. That is why we will leave the classroom every now and then!
We include the elementary component Practical Spanish in every course. That way you will learn the skills that you need in every day life. Together with the teacher you will visit typical places such as the local market, and you will enter into conversations with people in the street.
We also offer specific Spanish courses, meant to prepare you to use your Spanish for specific purposes. We offer a specific course to prepare you to do volunteer work or for an internship placement. Or a survival course to use while traveling in South America.
The Spanish school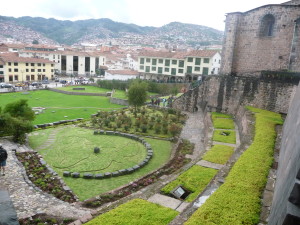 We develop our own methods which is quite unique for a Spanish language school. And we keep developing them, using the experiences of both the teacher and the student. Besides that, we use complementary materials: newspaper, magazines, documentaries, movies and music for example, all naturally in accordance with your level. A versatile approach that will accelerate your understanding of both the Spanish language and Peruvian culture!
In our Spanish school we want to maintain certain rules to optimize your learning experience with us in Cusco. But we also realize that you are staying and travelling in Peru for fun. That is why we are as flexible as possible in our classes, schedules and offers. We are a small Spanish school with only one goal: optimizing the learning experience you want to have whether it is with us in Cusco or online.
Our teaching method gives you the possibility to have a basic conversation in Spanish, faster than you can imagine. Of course it will depend on your own dedication as well, but you will be surprised! Mundo Antiguo Spanish school will certainly offer you the exceptional service you deserve!
And we do our best to make your stay in Cusco more than a learning experience. Every week we organize free activities in which you can participate. The activities are fun and you can make new friends from all over the world!
Spanish courses
Private and group classes
Activities
Free activities and services
Accommodation
Homestay and apartments
Volunteering
Internship and volunteer placements
Tours
The best tours in Cusco and Peru