Volunteer work with children
Volunteering with kids in Cusco
Volunteer work with children in Cusco

Volunteering in a kindergarten, after-school project or sports club
Kindergarten in Cusco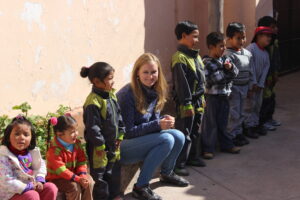 You may find your place to help in one of our children's projects.
You can help in a kindergarten, sports club or in centers where children from low-income families go for extra school support.
Normally these institutions are attended by the children of the neighborhood and in addition to receiving support with their schoolwork, it is where many of them have a snack or meal, which sometimes is not possible for them at home.
You can help with sports, art, music, theatre, English, math classes, among others. As well as playing with them at recess and helping with meal preparation.
Some of these projects only work from March to December (when the children attend school) and are usually in the afternoon. Although the option to collaborate in a kindergarten is only in the morning.