Crash course survival Spanish
Short course for travellers
Not a lot of time to study?

No time to stay in Cusco for an extensive Spanish course? You are not the only one! Therefore, we developed a crash course Survival Spanish. It is the perfect Spanish survival course for travelers who do not have much time in Cusco. In just one day you will get six hours of private lessons. We will give you the basic language tools that you need for your trip through South America.

As in our regular courses, our crash course Spanish Survival is based on communication. We teach you some basic grammatical structures, but we try to minimize this. As for a traveler it is more important to know how to express himself and ask basic questions. With the explanation of a specialized teacher you will learn some survival Spanish. And you will use our especially relevant pocket course book, which is handy-to-travel-with.
Survival course Spanish
Specially designed course
Basic language tools for travelers
Small course book included
Learn useful phrases for travel in just 1 day
6 hours of private lessons: 3 hours in the morning, 3 hours in the afternoon
Possible on any day of the week
Only US$60 for the crash course
We can also offer this crash course in groups.
What will you learn?
How to introduce yourself
The two different verbs for to be and how to use them correctly
Conjugation of regular verbs in present tense
Some very important irregular verbs
How to express what you do and do not like
A simple way to speak with future and past tense
How to use the correct gender and number for adjectives
How to ask specific travel-related questions: "what time", "where is", "what does it cost", "can I get a discount", "is breakfast included", "I would like to order…", "I need medical attention", etc.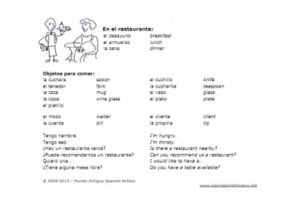 Mundo Antiguo Cusco

Contact us for more details: [email protected] or send a WhatsApp message or call us at: +51 933066788.

If you are already in Cusco, then please drop by at our Spanish language school: Cuesta San Blas 561, located in the heart of the historic center. You can visit us from Monday to Friday between 9 am and 5 pm. Start your trip in Peru with the Mundo Antiguo crash course survival Spanish!