Group course with shared apartment
Stay in a student apartment and take Spanish group lessons
Spanish group course
The group lessons will make you learn Spanish in a nice and social environment. You will talk, socialize and study with your fellow students and practice your Spanish together. The maximum group size is only 4 students. This way your teacher will have enough time and attention for each student.
Together with teaching grammar, we focus our interactive method on teaching you to listen, understand and speak. Therefore we use a grammar book, but other materials as well like articles, movies, music and newspapers. Our teachers only speak Spanish with you from the first moment on.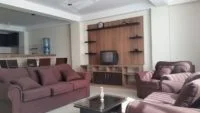 Shared student apartment
Enjoy your stay in Cusco, sharing an apartment with other students from different parts of the world! A shared apartment is really popular as it is an economical way of staying. And as you will stay with other students, fun is almost guaranteed. Many long-lasting international friendships started here!
We have apartments in Cusco in a tranquil neighborhood not far from the city center of Cusco and the Spanish school. The apartments are completely furnished. The living room has cable-TV, DVD and a dining area and a fully equipped kitchen (refrigerator, stove with oven, microwave, etc). So this is a good option for people that like to cook their own meals.
You will share the apartment with some fellow students. But of course you will always have your own private bedroom. Staying in an apartment is the most popular accommodation option in Cusco for mid and long term stays!