South coast of Peru
Nazca, Pisco, Huacachina, islas Ballestas
South coast of Peru

One who takes the time to explore the south coast of Peru, discovers more than one would have thought. Highlights are the Islas Ballestas near Pisco and Paracas, the sand dunes of Huacachina and the wines and pisco of Ica. And of course the enigmatic desert drawings called the Nazca Lines near Nazca.
Islas Ballestas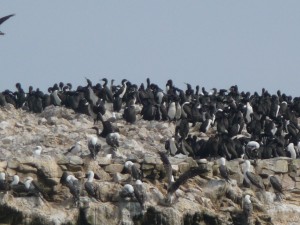 Rich for bird droppings
The Islas Ballestas are situated just outside the city of Pisco. Pisco was almost completely destroyed during the 2007 earthquake. Also named the 'Galápagos of the Poor', these islands are the home of large colonies of sea lions and penguins. You can examine these from really nearby!
Large groups of birds like cormorants and pelicans are attracted by the huge quantity of fish in these waters. There are so many of them that in the nineteenth century Peru became wealthy, selling the guano or bird droppings. On some islands the bird droppings formed a layer of 50 meters high. The guano was used as a fertilizer. The export to America and Europe was so profitable that Spain in 1865-66 even tried to annex the nearby Chincha Islands in the so-called Guano War.
The Islas Ballestas are the perfect place to see sea lions, penguins, cormorants and pelicans. And depending on the time of the year, also flamingos and dolphins.
Islas Ballestas tour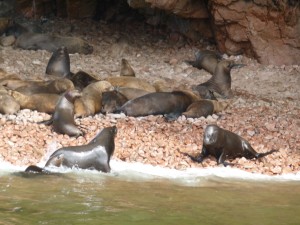 During the boat journey of about 1,5 hours you will first visit the Candelabra geoglyph. This is a mysterious figure of about 150 meters high and 50 meters wide, etched into the sandy hills. Nobody knows what it means or who made it. Afterwards you will cruise for about an hour around the Ballestas islands to watch the abundant wildlife.
Departure: at 8 and 10am, in boats with a capacity of 18 persons
Included: all taxes, English speaking guide, life-jacket, entrance fees
Please contact us for a quote or ask us for private tours
Huacachina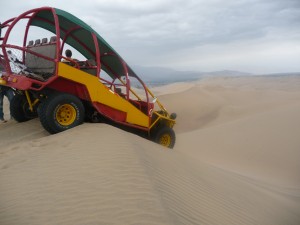 Racing in the dunes
The worlds' highest sand dune (of about 1850 meters) lies a bit more south near Nazca. But almost nothing is comparable to the sand dunes near the oasis of Huacachina, just outside Ica. This photogenic oasis is depicted on Peru's S/. 50 note and is surely worth a visit.

A tour by sandbuggy is a terrific adventure which will burst your adrenaline to record-levels! You can also snowboard your way down with a sandboard. Not so easy to do, but a lot of fun!
Huacachina tour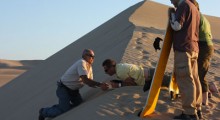 In 1,5 hours you race by buggy through the overwhelming sand dunes near the oasis of Huacachina. And you slide standing, laying down or somehow in between, downhill with your sandboard.
Departure: every moment of the day
Price: depending on the number of participants, minimum 2 persons
Included: all taxes, buggy with safety belts, English-speaking driver, sandboards
Not included: entrance fee of S/.3.60.
Private tours are also available. We can also recommend the tour of 1,5 days. In this tour you will barbecue and sleep in the desert. Please contact us for more information about this possibility!
Nazca Lines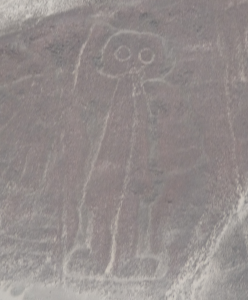 Riddle in the sand
Across an area of about 500 square kilometers, more than 800 straight lines and 300 geometric figures are etched out in the desert plain. Many lines are several kilometers long. But most attention goes to famous drawings like the humming bird, the condor and the astronaut.
Many theories have been elaborated since the discovery of the Nazca Lines in 1939. Most famous researcher is German Maria Reiche. She believes that the lines were made between 900 BC and 600 AD by the Paracas and Nazca cultures. And she believes that they formed an astronomic agricultural calendar.
Other researchers believe that the lines form part of a water cult. But they don't agree whether the cult originated because of the drought in the desert or because of destructive rainfall caused by El Niño! And then there is of course Erich von Daniken who states that the Nazca Lines functioned as extraterrestrial airstrips.
Nazca Lines tour

We will pick you up from your hotel and bring you to Nazca Airport. There you have a flight over the Nazca Lines for about half an hour. The airplane is small: there are only 5 passengers and the pilot, so you always sit at a window. The plane follows a standard circuit, which includes all the main figures.
Departure: in the morning, precise departure time depends on the airports' flight control
Price: depends on the season
Flights from Nazca Peru airport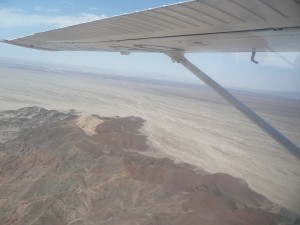 Unfortunately, there have been some accidents in Nazca. In the last years things have improved significantly. But it is important though to realize that several companies still fly with outdated planes that often don't meet all necessary safety requirements. It is difficult to imagine that those companies can continue their business on the Nazca airport, but sometimes this is just the reality here in South America.
The companies we work with are recommended for their sense of responsibility. As these are very popular companies, it is necessary to reserve with all anticipation possible.
South coast Peru tour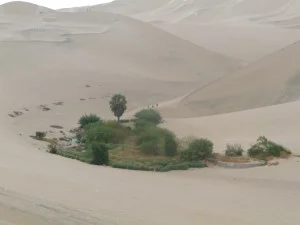 Lima – Islas Ballestas – Huacachina and Nazca
We can easily combine the tours described above to a south coast Peru tour. Like this you can make a short individual journey starting in Lima. The itinerary:
First day: arrival at Lima Airport, transfer to your hotel
Second day: free day Lima
Third day: transfer to the bus terminal; bus to Pisco. From Pisco our operator brings you to Paracas for your tour to the Islas Ballestas. After lunch (included) you will travel in private taxi to Ica – Huacachina where you do the buggy tour during sunset. You will stay for the night at the oasis in Huacachina.
Fourth day: the next morning you will drive in public bus to Nazca. We bring you to the Nazca airport where you will have your flight over the lines. Afterwards you can either return to Lima or continue travelling to Cusco or Arequipa.
Included:
transport as described above
all transfers
2 nights in Lima, 1 night in Huacachina
tours: Islas Ballestas, buggy tour Huacachina, flight Nazca Lines
meals: lunch day 2, breakfast day 1-3
English-speaking guides
Not included:
S/. 25 Nazca airport tax
remaining meals
bus ticket to Lima, Cusco or Arequipa
tips
Price: depending on season and hotel type. In this South coast Peru tour you can optionally include a city tour in Lima. Or include a visit to the mummy cemetery of Chauchilla or a continuing flight from Lima, for example to Cusco. Please contact us to request a quote and for more information about the South coast Peru tour!