Private Spanish classes & homestay
Private Spanish course and stay in a guest family
Individual Spanish course & Guest family stay in Cusco

Do you want to take individual Spanish lessons and stay in a local guest family? Book our package and get a discount! The package combines private lessons for 4 hours a day, 20 hours a week with a homestay in a carefully selected local guest family in Cusco.
Private classes
We tailor all of our private classes to your wishes. If you would like to learn Spanish conversationally, we will take you out of the classroom once a week to go to the local market. With your teacher, you can practice for example to negotiate a price with a local salesman.
Private lessons enable you to learn Spanish in your own pace. Often we see that it is very beneficial for your learning process when the teacher can adjust the lessons to your specific level and needs.
Homestay in Cusco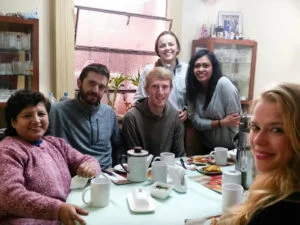 You will learn Spanish with the group course at our school. But also by staying in one of our carefully selected guest families! This allows you to practice your Spanish in a friendly environment. You will be able to learn Spanish through conversation in a short amount of time.
A homestay will also allow you to get to know more about the culture of Peru, customs, gastronomy, Peruvian traditions and more. You will stay in a comfortable private room. And your homestay includes daily breakfast, lunch and dinner.
With this package, we will pick you up for free from the airport or bus station in Cusco as well!
More weeks?

This is a package for a week. Most students choose to study for a longer time period with us. This package is perfect for a longer stay. Just tell us how many weeks you want our Spanish individual course and homestay package!