Private Spanish classes & homestay
Private Spanish course and stay in a guest family
Individual Spanish course & Guest family stay in Cusco

Do you want to take individual Spanish lessons and stay in a local guest family? Book our package and get a discount! The package combines private lessons for 4 hours a day, 20 hours a week with a homestay in a carefully selected local guest family in Cusco.
Private classes
For us it's important that you get the most out of your time in Cusco, that's why we customize the private classes to your wishes, pace and schedule. We carefully evaluate your level by a placement test and take in account your learning goals to design the best program for you. The test can be done either oral or written.
Our classes focus towards a more practical approach. We aim for our students to learn to actually speak Spanish. That's why the classes include both grammar and conversational practices.
We've seen that when students study for 4 hours per day, they benefit from having 2 different teachers. We often see that the change in teaching styles benefits the progress and engagement during the classes and helps to practice listening skills by hearing distinct voices. Once a week we'll take you out of the classroom to practice your Spanish in day-to-day situations, we'll go to the market, a museum and more.
Before, after and during the break of your classes you can help yourself to a coffee or tea and get to know the other students. You can also join our free weekly, cultural activities.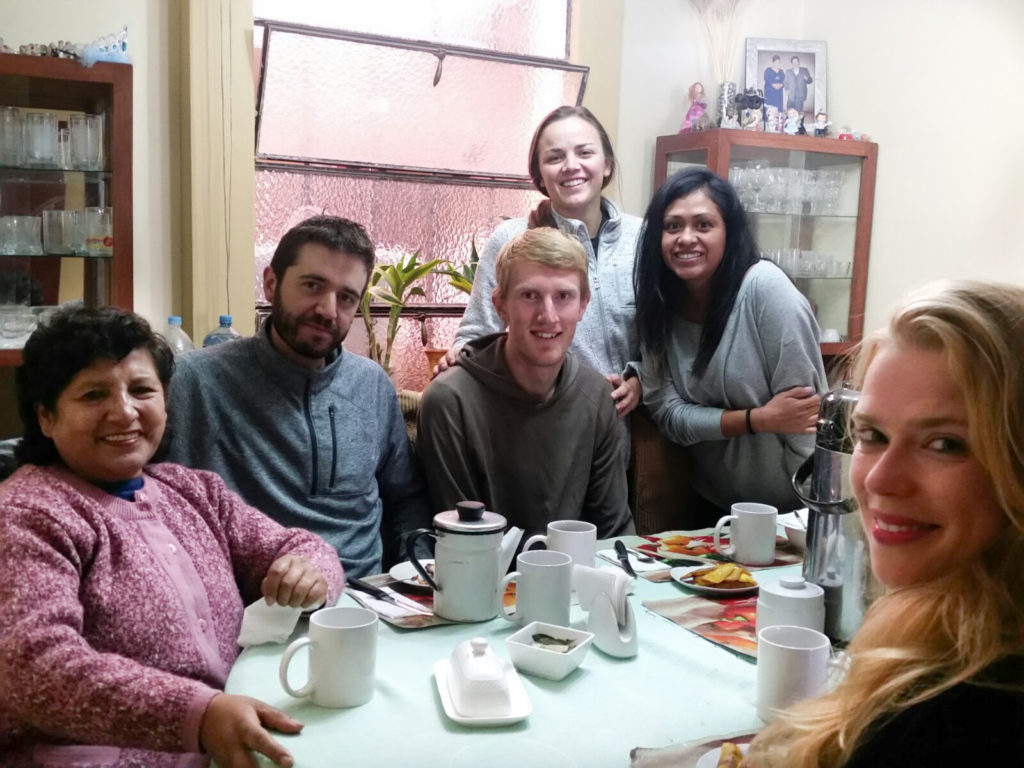 Homestay in Cusco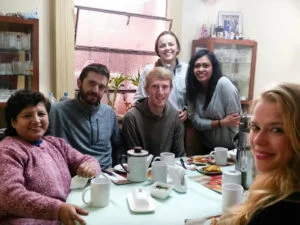 Staying with a guest family is the best option if you want to practice your conversational Spanish and
immerse yourself into a traditional Peruvian day-to-day lifestyle. Our families are passionate about
welcoming students from all over the world into their homes and sharing experiences.
You'll have your own bedroom with your own room key and share the common space with the other members of the family. The homestays are located in safe neighborhoods, between 20-40 minutes walking to school or 10-15 minutes by taxi. Included in the homestay are Wi-Fi, sheets, warm water and 24-hour hot drinks. Breakfast, lunch and dinner are included in the experience and a great time to practice your Spanish. Would you like to eat out instead of with the family? No problem at all, just let them know!
We offer a free airport pickup on your arrival day to take you to the family. You can start your stay with them any day of the week. Let us know your preferences regarding your stay, and we will do our best to find a family which best fit your needs. Vegetarian options are available!
We maintain a non-profit policy regarding the family stays, helping local families generate an extra income while providing our students with a unique experience. Which is our main goal.
More weeks?

This is a package for a week. Most students choose to study for a longer time period with us. This package is perfect for a longer stay. Just tell us how many weeks you want our Spanish group course and homestay package!