Manu National Park
A UNESCO World Heritage site
Manu National Park
From Cusco it is only a four hour drive to the border of Manu National Park. Manu National Park is a UNESCO World Heritage site since 1987. From the border of the national park, it is still a day or two by car and boat to the heart of the so called Reserved Zone. Manu National Park is one of the world´s most pristine wildlife areas, according to many researchers and biologists.

The park stretches from the high Andes – 4200 meters above sea level – to only about 300 meters. That difference in altitude makes the biodiversity enormous.
In Manu National Park there are 222 species of mammals, 99 species of reptiles, 140 amphibians, more than 1000 different birds and 210 different species counted. And there are 1307 types of butterflies, 330 ants, 136 and 650 beetle species of dragonflies. Besides that, there are many not yet described or undiscovered animals as well.
What about people in the National Park? There are people living in the area, but not as many as there are animals. With its 5.328 km², Manu National park is the largest National Park in Peru. Still it has an estimate population of only 17,000 people.
Paititi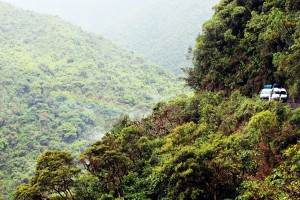 Did you ever hear of the legendary Inca city of Paititi? To find it, you need to go somewhere east of the Andes, hidden in the wilderness of the forest. This city is famous for its wealth of gold, silver and jewels. A lot of sixteenth and seventeenth century chronicle stories include this city.
The interest of Paititi was revived by a report to the Pope around the year 1600. This report was found in the year of 2001 in the Roman Catholic Jesuits. You can find Paititi in the Pantiacolla mountains in Manu and it is a place with a lot of possible expeditions. Maybe you can find it our for yourself!
Manu expeditions
Manu is one of the best places on earth for jungle trips, expeditions and adventures. We offer two different trips to Manu National Park: a five day and a 7 day adventurous rainforest jungle trip.